Marina Fuel Systems
Glasgow offers marina fueling solutions from dispensers, prepackaged systems, custom dispensers, to design and installation of entire projects. Systems engineered for marina applications are second-to-none. Our Marina Fuel Solutions are specially designed to withstand the unique demands of the marine environment. Our components are engineered to stand up to corrosion and the toughest weather that mother-nature creates. Being based in south Florida we have over 50 years experience in all aspects of marina fueling systems.
Red Jacket Submersible DEF
Experiencing total site control and optimizing DEF flow has never been easier. The revolutionary Red Jacket DEF Pump is a complete fueling solution designed to deliver the highest flow and maximum performance for sites that dispense Diesel Exhaust Fluid (DEF). Whether you are delivering DEF to one or sixteen nozzles simultaneously, the Red Jacket DEF Pump combines the benefits of Red Jacket's pressure technology with unique design features to deliver DEF more quickly, safely and reliably than any other pump.
Key Benefits
Unique design with motor above tank and removed from flow path delivers 2x more flow than other DEF pumps

Superior motor capable of more than 30 start/stop cycles per hour for peak fueling at busy sites

Superior pressure management with built-in pressure relief prevents premature nozzle shut-off and extends motor life

Motor located outside of the tank is easy to service and protects DEF quality against overheating and contamination

Meets ISO 22241 requirements for DEF applications
Bennett and PMC Dispensers
Gilbarco is an authorized factory direct distributors of Gilbarco, Gasboy, Bennett, and PMC marina fueling dispensers.
We also stock a full line of spare parts for these dispensers.
Fitfueler Hi Speed Fueling Custom cabinet dispenser
Fueling Rates 20 gpm * 200 gpm+
All aluminum cabinets with built in secondary containment
Can accommodate hose reels for 1" * 3" diameter hoses up to 300 ft.
Available with mechanical or electronic read outs in Gallons, Litres, or Imperial gallons.
Large screen display for easy read outs.
System can interface with wired or wireless remote P.O.S. systems.
Wireless credit card acceptance optional.
Sometimes the project calls for a custom cabinet solution when higher flows and largerhose reels are needed. For instance, the U.S. Coast Guard Homeland Security needed a 120 gpm system with 200 ft. of 2" hose. Or clients in the tropics want a dispenser with quick disconnects and fork pockets foreasy removal during storm threats.
Glasgow offers custom solutions for these projects. Our custom cabinets are capable of handling highspeed fueling applications from 20 gpmto over 200 gpm.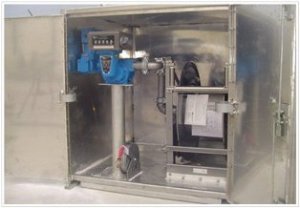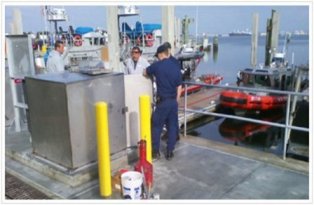 Marina Installations
Glasgow has been installing marinas for over 50 years.
Check out our Gallery for more completed projects!