TLS-450
The TLS-450 is the new standard in tank monitoring systems. The TLS-450 offers retail and commercial petroleum site owners automated compliance and site management so they are always inspector-ready, they always know their business status, and they are always in control of their fueling operations.
Capabilities Include:
Vapor well monitoring capability

Groundwater monitoring capability

Audible and visual alarm capabilities

Customizable alarms

Email notification and reporting

Fax notification and reporting

Continuous Statistical Leak Detection software – 0.2 GPH for both single and manifolded tanks

3.0 GPH, 0.1 GPH and 0.2 GPH in tank leak detection

3.0 GPH, 0.1 GPH and 0.2 GPH line leak detection capabilities

Sensor status report

Sensor status history report

7.4″ full VGA LCD touch screen

High resolution, high speed printer

Universal compartments support universal sensor and probe module, and input output interface module

Built-in relay for overfill alarm

Supports multiple languages

Intuitive and user-friendly interface

Single touch access to most functions

Customizable on-board Help

Custom dashboard

Remote web access

TLS-450 Direct Access™ software

Up to nine communication ports

Internal auto-dial fax modern communications SiteFax™

Ethernet communications

RS-232 data communications

RS-485 data communications

USB ports for software upgrade and data back up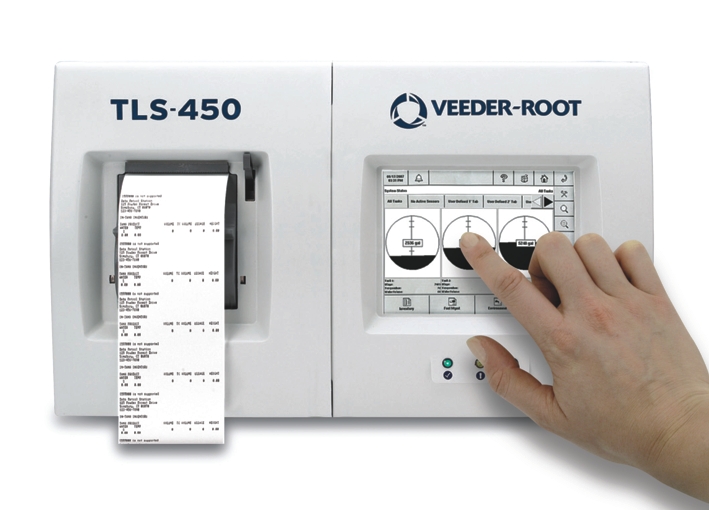 Incon TS-550 evo & TS-5000 evo Fuel Management Systems
INCON™ brand TS-550 evo and TS-5000 evo fuel management systems bring a new level of usability and functionality. A highly evolved user interface and blisteringly-fast new processor based on the proven T5 Series platform makes everything from daily functions to advanced setup and programming simple for every user.