Our petroleum storage tank and fuel dispensing sales department is dedicated to helping our customers get the job done right the first time. That means convenient scheduling, on-time delivery and reasonable prices. Customer satisfaction is our top priority.
The Glasgow Sales Department is ready to assist you with every aspect of your specific and unique needs. Starting with underground petroleum storage equipment, and continuing to dispensers, Point Of Sale and computerized site controllers, back office inventory and security, even electrical power surge suppression is all within the scope of our experienced sales staff.
Applause TV
Applause™ TV gas station advertising is the easy way to improve your customers' fueling experience and increase store traffic and profits. It's a dynamic audio and video experience with high-quality content and on-demand couponing. Move your brand forward with Applause TV, and more importantly, move your customers into your store to shop with unique and compelling gas station TV advertising.
Full content management by a professional media company maintains engaging content without requiring retailer resources.
Entertainment from more than 25 leading content providers and dynamic audio/video capabilities improves site image and customer loyalty, and increases site and store traffic.
Minimum of one store-specific advertisement included in the loop drives sales of key profit-center items and drives trail of new products.
On-demand couponing brings the customer into the store instantly.
National and regional advertisements increase likeliness that customer will enter store because of products ads.
Encore 700 S Dispenser Line with Applause TV
Secure your competitive advantage and increase profits with Gilbarco Veeder-Root's Encore® 700 S – your best gas dispenser investment for today and tomorrow.
Highly secure, these Gilbarco gas pumps with powerful CRIND® electronics build a flexible and innovative platform for your changing forecourt marketing and payment needs.Enjoy peace of mind with a leading foundation that is highly secure today and upgradeable to meet the payment and technology needs of tomorrow.
Encore 500 Retrofit Kit with Applause TV
Pump up your security quotient with the industry's best security kits for gas dispensers. Gilbarco Veeder-Root's FlexPay™ II CRIND comes loaded with multi-layered anti-tampering technology that helps secure your gas pump from theft and fraud.
The FlexPay™ II CRIND provides the easiest and most integrated solution to prolong the life of your dispensers with payment compliance and a modern and ungraded image. FlexPay™ II CRIND's fully certified debit, credit card, and EMV capabilities allow customers to pay with ease.
Gilbarco's Applause Media System and Applause TV entertain your customers while keeping them informed of the latest in-store items to maximize in-store lift.
Available factory-installed on your new Encore® 700 S dispensers and as a retrofit to your existing dispensers, your customers can now enjoy the same familiar and intuitive experience everywhere.
Give your customers a no-holds-barred, worry-free fueling experience.
Passport POS
Using the Passport Point-of-Sale (POS) system is the easy way to be the loyalty leader of c-store pos systems. With the most interfaces to third-party loyalty systems and powerful fuel discounting and merchandising, Passport POS helps you capitalize on today's craving for rewards and discounts. And Passport's intuitive and user-friendly technology and powerful business tools make work easier. PCI compliance is simplified too, as you can meet today's and tomorrow's requirements without needing costly upgrades to your convenience store equipment. See how Passport puts the future at your fingertips.perience.
Topaz POS
VeriFone's new Topaz XL point of sale workstation is an industry first, that features a combination 15 inch touch screen display plus a 120-key keyboard. Topaz XL is built on our industry leading Ruby SuperSystem framework, the best selling POS in the Petroleum and Convenience Retail industry for sixteen consecutive years. at your fingertips.perience.
TLS-450
The TLS-450 is the new standard in tank monitoring systems. The TLS-450 offers retail and commercial petroleum site owners automated compliance and site management so they are always inspector-ready, they always know their business status, and they are always in control of their fueling operations.
Capabilities Include:
Vapor well monitoring capability

Groundwater monitoring capability

Audible and visual alarm capabilities

Customizable alarms

Email notification and reporting

Fax notification and reporting

Continuous Statistical Leak Detection software – 0.2 GPH for both single and manifolded tanks

3.0 GPH, 0.1 GPH and 0.2 GPH in tank leak detection

3.0 GPH, 0.1 GPH and 0.2 GPH line leak detection capabilities

Sensor status report

Sensor status history report

7.4″ full VGA LCD touch screen

High resolution, high speed printer

Universal compartments support universal sensor and probe module, and input output interface module

Built-in relay for overfill alarm

Supports multiple languages

Intuitive and user-friendly interface

Single touch access to most functions

Customizable on-board Help

Custom dashboard

Remote web access

TLS-450 Direct Access™ software

Up to nine communication ports

Internal auto-dial fax modern communications SiteFax™

Ethernet communications

RS-232 data communications

RS-485 data communications

USB ports for software upgrade and data back up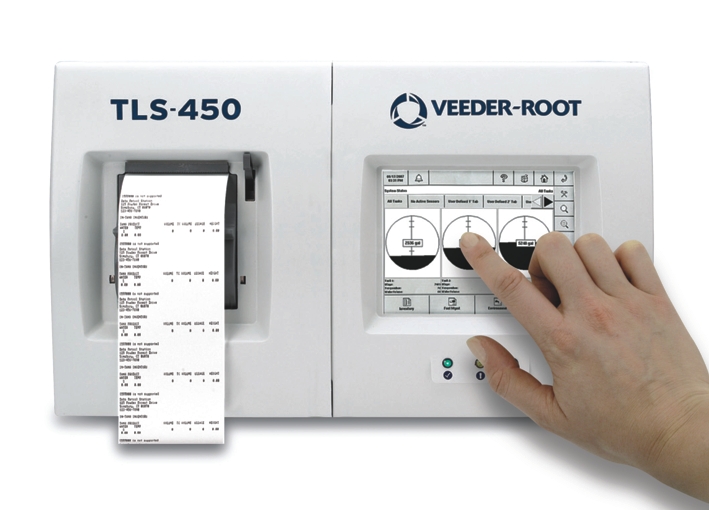 Our Full Line of Products & Brands
Storage Tanks & Piping
Xerxes

Modern Welding

Convault

NOV Fiberglass

Red-Jacket

FE Petro

OPW

Containment Solutions

Metal Products

Ameron
Back Office Inventory Control & Security
CMI

Digital Security Systems
Fuel Dispensers & Pumping Units
Gilbarco

GasBoy

Fill-Rite

Bennett- commercial
Point of Sale & Site Controllers
Gilbarco

Verifone

Esco

Fill-Rite
Electronic Tank Monitoring
Gilbarco

Veeder-Root

Pneumercator

Incon